Do you want to surprise your guests with an amazing dessert? Create delicious peguins made of cream cheese in just half an hour. Cream cheese penguins!
18 servings
35 minutes preparation time
57 cals
5.5 g fat; 1.2 g carbohydrates; 1 g protein; 14 mg cholesterol; 104 mg sodium.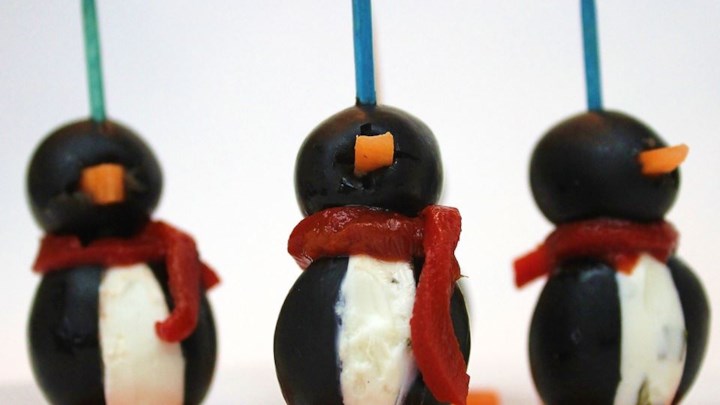 Ingredients
18 jumbo black olives, pitted
18 small black olives
1 (8 ounce) package cream cheese, softened
Cut a slit from top to bottom, lengthwise, into the side of each jumbo olive. Carefully insert about 1 teaspoon of cream cheese into each olive. Slice the carrot into eighteen 1/4 inch thick rounds; cut a small notch out of each carrot slice to form feet. Save the cut out piece and press into center of small olive to form the beak. If necessary cut a small slit into each olive before inserting the beak.
Set a big olive, large hole side down, onto a carrot slice. Then, set a small olive onto the large olive, adjusting so that the beak, cream cheese chest and notch in the carrot slice line up. Secure with a toothpick. You should have nice cream cheese penguins.
Recipe for cream cheese penguins by Valerie Cain Cuff.